Lucky number 7! Blackout Weekend fortifies efforts to increase inclusion in mountain spaces
Lucky number 7! Blackout Weekend fortifies efforts to increase inclusion in mountain spaces
By: Tabnie Dozier
Lake Tahoe's premiere Urban Professional Ski Snowboard Party is celebrating its seventh year of networking, uplifting Black excellence and connecting more of us to the gorgeous yet sometimes daunting space of mountain sports and high elevation fun.
"We belong everywhere, and what is great about Blackout is that now you can try a sport with other people that look like you. We have experienced boarders and skiers as well as those that are taking lessons. In addition for those that are not sure about boarding or skiing, there are snowmobiles, tubing, and ice skating among other things. We have something for everyone,"Cherice Calhoun with Blackout Weekend explains. She's an annual producer for the South Lake Tahoe experience.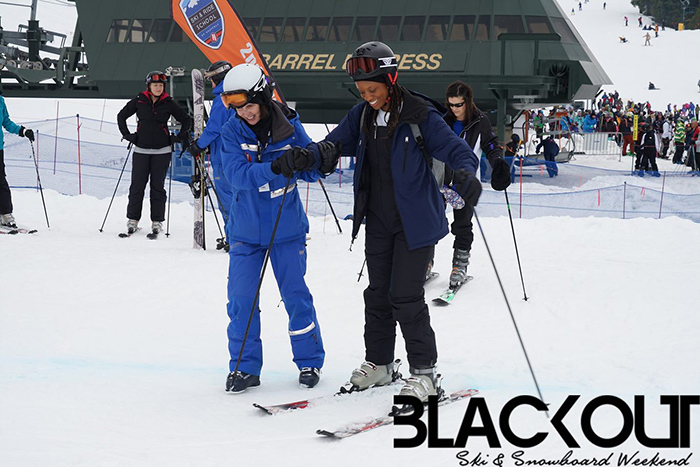 "Being from Reno, Nevada, anytime Black people get together and have an amazing time is always such a joy to see. So to see so many people coming through the Reno area for something so positive is exciting. It helps break the stereotype that Black people don't participate in outdoor activities, or that we don't go anywhere where there's snow," says Shaquita Smith. The Reno native, which is only 50 minutes away from South Lake Tahoe, is a married Program Manager at Intuit, and will be participating in her second Blackout Weekend, with her husband Damariey and friends from Nevada, California and beyond.
Black, Indigenous People of Color are not very visible on the slopes. Recent statistics show that nine of out ten winter sport participants are white and close to 63 percent are male. Tom Fortune, VP and COO of Heavenly and the Tahoe Region discusses the resort's support of making sure everyone feels more comfortable, "Each and every year, this event is a blast and reinforces the importance of ensuring our mountain remains open and accessible as we work towards making snow sports -- and the outdoors -- truly welcoming for all. We are excited to host Black Out Weekend once again, and provide all who join the amazing experience that is Heavenly and the Lake Tahoe Region."
Our event is for all backgrounds and interest levels for people 21 and older. We understand that the slopes aren't for everyone. Heavenly features more than just skiing and snowboarding! During ski and ride season, we encourage our attendees to check out Gondola sightseeing. Beginning in Heavenly Village, take the Gondola to mid-station and enjoy the incredible views and blues of Lake Tahoe and the surrounding Sierras. At the top of the Gondola, you'll find food, beverage, and entertainment at Tamarack Lodge, as well as snow tubing!

Smith, who doesn't snowboard or ski, says that shouldn't stop people from experiencing the joys of her extended backyard, telling us, "There's not much to be afraid of! It's honestly one of the most beautiful things you'll ever see in your life. You don't have to ski. There are so many other things to do that aren't scary. There's a little bit to do for everyone."
"Many of our guests have never visited Lake Tahoe, and this will be their opportunity to take advantage of all the city offers: snow activities, shopping, dining, and more. We look forward to continuing the relationships we have developed and creating new ones," Calhoun adds. Attendance has been smooth year after year. Exposure is growing as well! Our west coast celebration was profiled on the global platform of Essence Magazine's website, one of the most trusted media companies, dedicated to Black women for the past 55 years.
Calhoun is looking forward to seeing first-timers as well as familiar faces, adding, "Expect a good time. This will be an opportunity to try new things, get some great photos, and meet new people." Pack layers, sunglasses and a big smile. The views are breathtaking, the events are purposeful and unforgettable memories and connections will be made.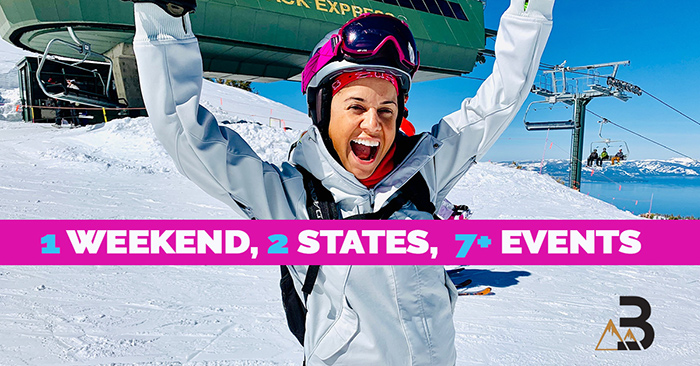 Photos by: Adrian Pitts