Blackout Weekend 101 – Snowmobiling
Blackout Weekend 101 – Snowmobiling
Blackout Weekend 101 – Snowmobiling
Hit the slopes. Check.
Ice Skate. Check.
Make snow angels. Check.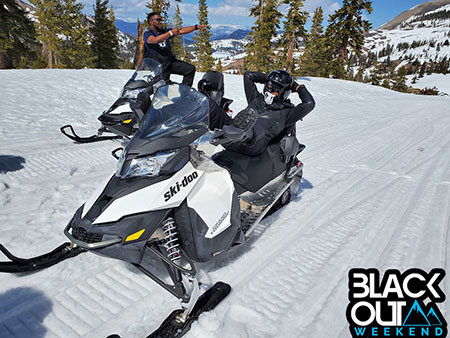 What else is there to do in the snow? Grab your group and feel the thrill of an exciting snowmobile tour!
Blackout Weekend has organized two tours, one Friday and one Saturday, for our group.  If you're not into driving, a double passenger vehicle is available.
Summit Tour
This tour is the most popular and beginner friendly option. But just because it's easy doesn't mean it lacks fun! You'll be traveling through Hope Valley reaching altitudes of 10,000 ft. Can you imagine the views? If you can't, sign up for the tour and you'll see them in person!
Group Price
Single Rider - $200
Double (2 Riders) - $250

Friday Tour 11AM - Departure from Harrah's hotel
Saturday Tour 9AM - Departure from Harrah's hotel
What's Included
Transportation to touring company
Helmet
Goggles
Gratuity for guides
What You'll Need
Driver's License
Credit Card
Sunscreen
Warm Weather Layered Clothing
Closed-toe shoes required
Coat (Available to rent)
Snow / Waterproof Pants (Available to rent)
Boots (Available to rent)
Gloves (Available to rent)
Wristbands required to join the Blackout Group, add the tour to your package today!
Click here and visit the OFFERS tab to purchase today! If you already have your wristband visit the link found in your receipt to add to your package. Contact us at blackout@blackoutweekend.com for questions.
Fun Fact: Lake Tahoe borders two states, five counties, one city, and multiple smaller towns.