Blackout Weekend 101 – 10 Ways To Turn Up The Action
Blackout Weekend 101 – 10 Ways To Turn Up The Action
Blackout Weekend 101 – 10 Ways To Turn Up The Action!
Your Blackout Weekend wristband gets you access to a weekend of amazing events. Additionally add-on activities can keep the weekend action packed and non-stop. Lake Tahoe is famous for its resort activities like skiing and snowboarding, but if you're curious about non-skier/ boarder activities or what else to do between the mountain and the parties this post is for you!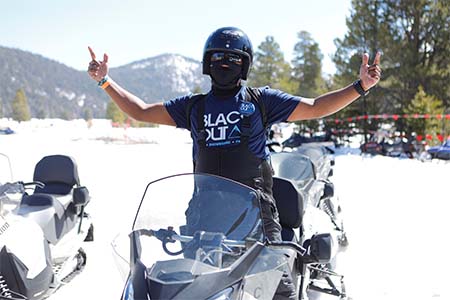 1. Snowmobiling – Four wheelers are to land, as Jet-skiing is to water, as snowmobiling is to snow, so why not give it a go! Book with Blackout Weekend to join our group sessions on Friday or Saturday.
Check out the Snowmobile blog for group pricing.
2. Gondola Ride – The Gondola ride is not only for skiers. Feel free to take a ride on the Gondola and get a glimpse of Lake Tahoe that you can only see hundreds of feet in the air.
Get Discount tickets from Blackout while available
3. Plus Up your mountain game – If you're new to snow sports or haven't done it in awhile its fun, great exercise and Blackout Weekend is the perfect opportunity to get going. Even if you're experienced, plus up your game with an advanced lesson or check out the Blackout Weekend Slack community for info on advanced rider meetups, equipment rental discounts and more.
4. Casino – Lake Tahoe sits on the California/Nevada state line, meaning ... Nevada Casinos! Make Blackout Weekend the trip that never sleeps by checking out 24/7 Las Vegas style gaming directly inside the host hotels (Harrah's and Harveys)! Try your luck at the slots, test your skill at blackjack or experience the non-stop fast action of Craps and more.
5. Spa Day – Lake Tahoe is a resort town; Insert a little extra "lux" into your experience with a spa visit. There are several spa options including one in our host hotel Harrah's/ Harvey's. Find the spa that best suits your vibe and drift off into bliss.
6. Visit Heavenly Village – Steps away from Harrah's and Harveys is Heavenly Village; Filled with shops, restaurants, and other stops to explore.
Visit: Heavenly Village for more info.
7. Eat Experience some of Tahoe's fine dining or thematic restaurant options such as Hell's Kitchen Lake Tahoe. The famous restaurant created by celebrated, world-acclaimed, celebrity chef and television personality Gordon Ramsay. Now taking reservations inside host hotel Harvey's.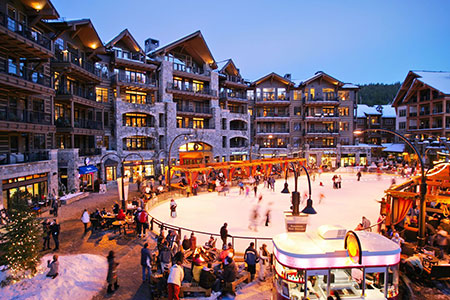 8. Ice Skating – You thought we were getting away from winter activities? We will shortly, but if you're interested in imagining you're a top figure skater in the Winter Olympics or simply into a bit of fun, lace up those skates and hit the rink.
Ice skating is available at Heavenly Village from 10am – 8pm starting at $20 per person.
9. Brewery Hop – South Lake Tahoe has a multitude of breweries. If you're interested in trying the best beers Lake Tahoe has to offer, make a day of it!
10. Sleigh Ride – Who says sleigh rides just have to be for Santa? Tour breath-taking Lake Tahoe on a horse drawn sleigh for a memory of a lifetime.
Visit Sleigh Ride for pricing.

Fun Fact: The first people in Lake Tahoe were the Washoe Tribe.